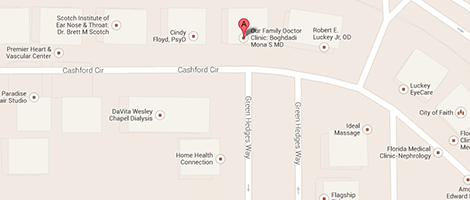 Enter your address on the next page and Google will navigate you to New Tampa Eye Institute. Click here for directions
Office Location.
27356 Cashford Circle
Wesley Chapel, FL 33544
Tel: 813-994-7000
Fax: 813-994-3781
Email: MD@NewTampaEyes.com
Hours:
Monday 8:00AM to 5:00PM
Tuesday 8:00AM to 5:00PM
Wednesday 8:00AM to 5:00PM
Thursday 11:00AM to 7:00PM
Friday 8:00AM to 5:00PM
General Contact Info
All departments can be reached by dialing (813) 994-7000.
Please feel free to contact us with general questions about our center or services via email MD@NewTampaEyes.com. Please remember that this is not a substitute for a doctor's visit, and an immediate response is not guaranteed. Any inquiries that need to be answered by the close of the business day or sooner should be made by telephone.
If you are experiencing a true emergency, please dial 911 immediately.
Accepted Insurance
New Tampa Eye Institute accepts majority of the medical health insurances, but please check with your insurance provider or call us (813) 994-7000.
Get Social
For information and fun facts visit and Like us on our social media sites. We will continue to update our sites with news and events which you may find informative regarding your eye health. Also please share your experience with us and other people by rating us on the web: