Your Sight is the Focus at New Tampa Eye Institute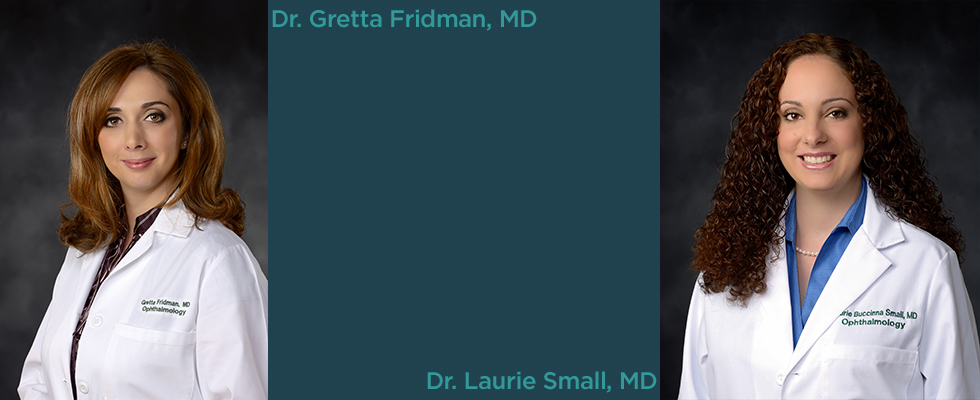 Regular comprehensive eye exams are important to keep you seeing clearly and to preserve your vision for life. As you age, eye health becomes more and more important since diseases like glaucoma, cataracts, and diabetes can seriously impact your vision with little warning and no early side effects. Facial muscle spasms or changes to the eyelid area due to aging or disease can also seriously affect your vision and comfort. Gretta Fridman, MD, and Laurie Small, MD, of the New Tampa Eye Institute located off SR 56 in the Summergate Professional Center are dedicated to ensuring that their patients keep their eyes looking, feeling, and seeing their best.
Glaucoma, Cataracts & Diabetic Eye Diseases
According to the World Health Organization, glaucoma is the second leading cause of blindness in the world. It is estimated that 2.2 million Americans have glaucoma but only half of those know they have it. "At New Tampa Eye Institute, we have the most advanced technologies available, including the SITA SWAP which allows us to detect glaucoma at a much earlier age in our patients, which means you can start treating the disease immediately," says Dr. Fridman. "The sooner you begin treating glaucoma, the less likely you are to have problems with your vision. There are many new treatments, medications, and surgeries for glaucoma patients which greatly improve the chances of retaining vision."
Many people think that they will have signs or symptoms of glaucoma, but they do not. If you are at risk for glaucoma, you need to have regular, thorough eye exams to make sure you do not have it. Everyone is at risk for glaucoma but high-risk groups include African Americans or Hispanic people over 40, people with diabetes or high blood pressure, and anyone with a family history of the disease.
Dr. Fridman also specializes in helping patients with diabetic eye diseases and cataracts, a clouding of the eye lens, which blocks light. Most cataracts are related to aging, although occasionally children may be born with the condition, or a cataract may develop after an injury, inflammation or disease.
Dr. Fridman received her Bachelor of Arts undergraduate degree from Barnard College, Columbia University, and her Medical Degree from the State University of New York at Downstate. She completed her ophthalmology residency and glaucoma fellowship at the University of South Florida.
Oculoplastics
Dr. Laurie Small, who specializes in oculoplastics, recently joined New Tampa Eye Institute. "I knew I wanted to join a practice with a familystyle atmosphere – the kind of practice that allows you to treat patients with all the time and individual attention they deserve. Dr. Fridman and I have complementary specialties and make a great team."
Problems affecting the eyelids, the tear system, and the area surrounding the eyes can be the result of birth defects, aging changes, tumors, trauma, or diseases. Depending on the reason for and severity of your problem, you may need medical or surgical treatment. Dr. Small is an expert at helping patients who have eyelid problems, whatever the reason. She also helps patients alleviate facial muscle spasms.
Dr. Small performs cosmetic procedures like Botox and fillers and cosmetic surgeries including endoscopic brow lift which, unlike other brow lift surgeries, does not leave a visible scar.
Dr. Small received her Bachelor of Science undergraduate degree from The University of Miami and her Medical Degree from the University of Florida. She completed her ophthalmology residency and oculoplastic surgery fellowship at the University of South Florida.
Dr. Fridman, Dr. Small, and the entire staff of the New Tampa Eye Institute are dedicated to taking care of their patients. They have made sure that New Tampa Eye Institute has the most advanced technology to help detect and take care of your eyes. But they have also kept their patients' comfort in mind by providing a wheelchair accessible exam room and other amenities throughout the office.
"I worked at the V.A. hospital during my residency," says Dr. Fridman. "I enjoyed working with the veterans that were patients there. I also learned a lot about what it takes to make an office accessible and comfortable for older patients or for those with disabilities. We want to make sure New Tampa Eye Institute is accessible and comfortable for all of our patients."