Medical and Cosmetic Uses of BOTOX®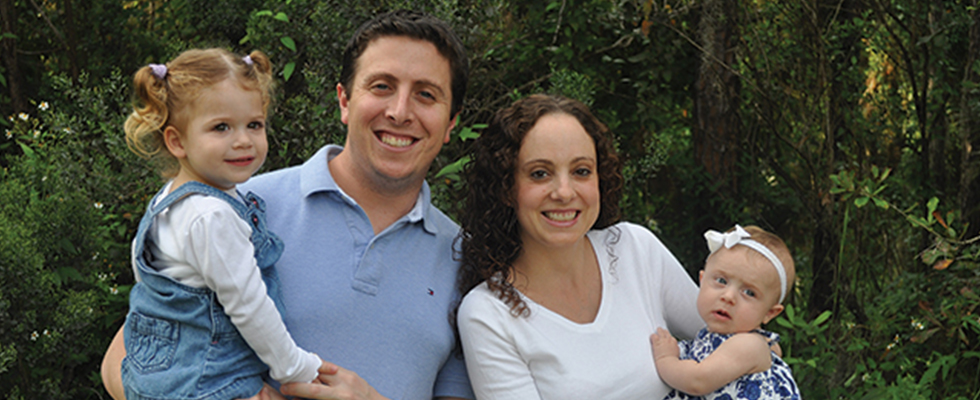 Wesley Chapel native Laurie B. Small, MD, is happy to return from medical training to serve the community where she grew up.
During her many years of medical training to become the fellowship-trained oculoplastic surgery specialist she is today, Dr. Small believed in her heart that she would someday return to practice medicine in her hometown. "I love the town, I love the people. I always knew I wanted to live and work in Wesley Chapel," says Dr. Small. "It's just a great place." A family-oriented person, the doctor is pleased to be raising her two young daughters, 22-month-old Sophia and five-month-old Abigail, with her husband, gastroenterologist Dr. Michael Small, in the neighborhood where she grew up.
"My parents still live in the area and my sister, Dana Buccinna, is a Women's Health nurse practitioner locally. My husband works nearby out of St. Joseph's Hospital," adds Dr. Small. When glaucoma expert Gretta Fridman, MD, invited her to join her practice at New Tampa Eye Institute, Dr. Small immediately recognized this was the right opportunity. "After completing my medical training, I knew I wanted to join a practice with a family-style atmosphere – the kind of practice that allows you to treat patients with all the time and individual attention they deserve. Dr. Fridman and I have complementary specialties and make a great team."
The facts about BOTOX
BOTOX is a nonsurgical, physician-administered treatment that temporarily weakens the targeted muscle(s). Since the early 1990s, it has been in use and approved by the Food and Drug Administration (FDA) to treat strabismus and blepharospasm, two eye muscle disorders. Since that time, approval has expanded to include treatment of neck pain; muscle stiffness of the elbow, wrist, and finger muscles, excessive underarm sweating, and chronic migraine. In 2002, BOTOX was approved by the FDA as safe for use for cosmetic treatments.
Explains Dr. Small: "BOTOX works by blocking nerve impulses, halting the contraction of muscles. BOTOX procedures take only a few minutes to perform and don't require anesthesia. To reduce discomfort, the protein is injected into the muscle using a fine needle. The procedure is performed in the office, and patients are able to go home and resume normal activities shortly after treatment."
BOTOX Medical
Blepharospasm and hemifacial spasm, two medical conditions involving spasms or involuntary muscle contractions, respond well to treatment with BOTOX. "Patients suffering from these conditions experience spasms of the facial muscles," confirms Dr. Small, "either on both sides, called benign essential blepharospasm, or on one side, called hemifacial spasm. In both instances, the muscles around the eyebrows, cheeks, and mouth can be affected by involuntary twitching. Most distressing, the spasms can cause the eyes to shut, affecting, among other daily tasks, the patient's ability to safely drive.
"Beginning as soon as three days after injection, BOTOX can help patients with this condition control the spasms. For many patients, BOTOX alleviates ninety percent of the spasms within two weeks of the first treatment," says Dr. Small.
BOTOX Cosmetic
Estimated as one of the most popular of all cosmetic procedures to date, BOTOX is used by people in their 20s and 30s as a preventative measure against aging and by people over 40 to rewind the aging process. When muscles don't contract, wrinkles soften. Patients typically see cosmetic improvement within a few days, with the results lasting four to six months. Most patients will need retreatment to remove lines and wrinkles as they begin to reappear. However, with repeated injections, and as the muscles are
"BOTOX Cosmetic treatments can help relax the movement in the targeted area, softening the creases and contributing to a more relaxed facial expression," notes Dr. Small.